About Kyle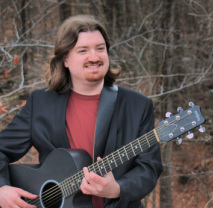 New York-based singer/songwriter Kyle Hancharick has been hailed as a truly gifted performer and a promising songwriter and storyteller, as shown in part through his 2012 debut, "EP." From a dying man who has everything to live for (What's Left?) to two long-distance lovers pining for each other (Beyond the Soil and Stone), Kyle's songwriting and story-crafting has been compared to that of David Wilcox and Richard Shindell.

His upcoming full-length project, due out later this year, promises the same unique storytelling, but with an undeniable increase in depth. The new project, which is currently in post-production, will feature a bigger sound, with deeper and more mature songwriting and storytelling.

Kyle's story began at a young age. Kyle was raised on the music of prominent singer-songwriters of the 60s and 70s, such as Bob Dylan, Bruce Springsteen, James Taylor, and John Denver. His first live performance was at the age of 8 in front of a crowd of about 100 people, and he hasn't left the stage since. Over the next few years, Kyle performed consistently, but it wasn't until the age of 12 that Kyle had truly discovered his own unique style. Punctuated by intricate guitar playing and a James Taylor-resemblant vocal style, Kyle soon began to see music as a calling.

At this point, Kyle began exploring new avenues of music creation. For 9 years, he performed with a band that crossed folk, rock, pop, and occasionally blues, country, metal, and punk.

But now, the focus is on his roots in folk/rock music. Kyle now regularly performs throughout upstate New York and New Jersey as a solo artist. In 2012, Kyle released his 5-song debut, EP. With only subtle background instrumentation, the acoustic guitar-driven EP offers an intimate, yet attention-grabbing listening experience, thanks to Kyle's skilled writing and storytelling.


---